In an article written for the Indian Sentinel of 1908, I have dealt at some length with the Navajo Indians in general, and with the condition of the Mission and School for these Indians here at Saint Michael's, Arizona. This sketch and others which have appeared in various publications no doubt have made a number of the readers of the Franciscan Missions of the Southwest familiar with the work now in progress.
When in 1897 the Franciscan Province of Saint John the Baptist of Cincinnati, Ohio, accepted the Mission for the Navajo Indians it undoubtedly realized the extent and difficulty of this new missionary field. Here was a tribe into which the Catholic Faith had never before penetrated, a tribe of nomads, numbering some 23,000, living scattered over an area equal in size to that of the states of Connecticut, Massachusetts, Vermont and Rhode Island combined, and speaking none but their own Indian language. Still, the proposal was much in line with the glorious traditions of the Seraphic Order which from its very foundation has sent its members to the children "that sit in darkness and in the shadow of death," and the Mission was gladly accepted.
Our arrival, fourteen years ago, naturally awakened some suspicion in the Aenishodi, the "Long-gowns," or literally, "Those-Who-Drag-Their-Gowns." Suspicion and doubt, however, could not persist in the face of a genuine kindness hospitality which from its inception ever prevailed at the Mission.
The name "Long-gowns" was known to them by tradition only, or rather through inter-tribal relations with the Pueblo Indians who, it is known, have had Franciscan missionaries for centuries. At present, when a distinction between a priest and Protestant minister is to be made, the latter are called "Long-Gowns-Wearing-Short-Coats" a contradiction in terms or also " Long-Gowns-Having-Wives. " In recent years, or rather since the "pacification" of the Navajos, Protestant ministers have penetrated the Navajo country. As these evangelists were invariably accompanied by their wives, it is not surprising that the Navajos were eager to know when our wives would follow us. They were much surprised to learn that a Catholic priest does not marry, so that he may be at the disposal of his flock at all times. Now the difference is well known to them and is often a subject of comment.
Our first and possibly the most difficult task was to master their language. This, like missionary work among the Navajos, had never been undertaken, so that by comparison, analysis and study the language had to be constructed. Not an easy undertaking; for when a more extended study showed us our mistakes, we found that much of our original material had to be discarded as worthless. This obtained even more upon under taking the composition of a Navajo catechism. Often expressions could not be found, so that words had to be coined for conveying our religious ideas of God, the Blessed Trinity, person, redemption, salvation, etc. The best of Navajo "linguists" and even medicine men were employed in an endeavor to gain an approximately correct rendition. Not a little labor, therefor, was connected with our success in finally publishing the catechism.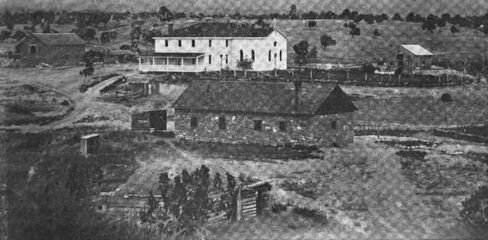 Old Mission House, St. Michael's, Arizona
Our difficulty encountered at first in expressing their sounds in language reminds me of a story.
An Indian missionary in conversation with a New Englander was asked whether he had published the Bible in the Indian language. No, he had not. But why not? Was not the Bible the most essential means in converting the heathen? The missionary replied that he had not done so because it was impossible to render that particular Indian language in writing. "O fudge! "the New Englander rejoined, " I can write any sound that occurs in any language.'" Saying this he took his note-book and pencil in hand and asked for some samples of those impossible Indian sounds. The missionary emitted a few sounds that formed a combination of grunts and plosives. The New Englander stared at him in utter amazement and said: "What is that ?" "Why, that means: "Good morning, Sir." Now write it, please." But the New Englander replaced book and pencil.
During the first years we composed a catechism, a bible history, a small dictionary and part of a Navajo grammar. After much revision our Mission press was able to publish an Ethnologic Dictionary of the Navajo Language, and a Navajo-English Catechism of Christian Doctrine for the Use of Navajo Children in 1910. Recently A Navajo-English and English-Navajo Vocabulary followed, and a bible history and Navajo grammar are now in preparation and will leave the press within a year.
In 1902 the V e n. Mother Katharine Drexel, Foundress of the community of The Sisters Of The Blessed Sacrament For Indians And Negroes, erected a large boarding school for our Navajo children here at Saint Michael's.
In Government Indian schools pupils are obtained through the Agency officials who make the necessary requisitions through the police force and other persuasive methods. Such means were not at our disposal, so that other ways and means had to be devised to obtain pupils for our school. Accordingly we sought the assistance of the headmen of the tribe through whom we made the acquaintance of the Indians in their district, and in council and conversation made them familiar with the aim and object of our Mission and School. Our efforts resulted in an attendance of 57 pupils, a number which by degrees has been increased, so that upon the completion and enlargement of the school an attendance of 170 pupils was reached.
From the very beginning we gave religious instruction to the children in their native tongue, and their alertness in answering and grasping what was taught is abundant proof that the average Navajo child is by no means inferior in wit and memory to children of our own race. In due time we had the satisfaction of seeing our efforts crowned with success, and it is a matter of pride and record, that of all the pupils in attendance who have reached the proper age and were sufficiently instructed not one has failed to ask for and receive Holy Baptism. Some of the pupils were 18, 19, 20 years old when they were baptized.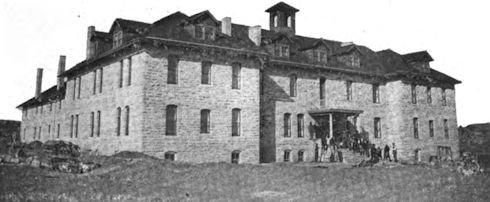 St. Michael's School
At the present writing 241 pupils of our school have been baptized and 160 have received their first Holy Communion. 'While all communicants receive the sacraments every month, it is not unusual that a large number of boys and girls approach the sacraments every week or even oftener.
In 1905 we established a branch Mission at Chin Lee, at the mouth of the beautiful and picturesque Canyon de Chelley, 55 miles further in the Indian country. Two Fathers and one Lay Brother reside at that Mission. Recently, too, a large chapel has been erected here.
Last year we also built a chapel with two adjoining rooms at Lukachukai, a beautiful valley at the foot of the Lukachukai Mountains, 75 miles from our Saint Michael's Mission.
Three years ago the Government has built a boarding school with a capacity of 80 pupils at Chin Lee, only .a half mile away from our Chin Lee Mission, and the prospects for a large boarding school in the immediate neighborhood of our chapel at Lukachukai are also very good.
Some years ago the Indian Office at Washington issued new rules and regulations permitting Catholic instruction and services for heathen children in Government schools, provided the written request of their parents to do so could be obtained.
This written request was obtained for all pupils without exception at the Chin Lee school, for the vast majority of pupils at the Fort Defiance School, and also for a large number of pupils in attendance at Non-Reservation Schools, so that, all told, about 275 pupils in Government schools receive Catholic instruction twice a week. At Chin Lee the pupils attend Holy Mass and instruction at our chapel on Sundays, while Mass is said every Sunday, Wednesday and Friday in the "assembly hall" of the large school at Fort Defiance. Last year 130 pupils of that Government school have received Holy Baptism and their first Holy Communion. 
Time and space permits me to touch only upon these few phases of our work.

Navajo Family
To civilize and Christianize a nomadic people is obviously a difficult task. Scarcity of water and the general topography of a country which is fit for grazing purposes only, force the Navajos to live scattered, so that, excepting some favored localities, one seldom sees two Navajo huts within hailing distance or even within sight of each other.
Conditions as these make it impossible to reach the entire tribe from one center like Saint Michael's Mission; hence we established the Mission at Chin Lee and the Mission Station at Lukachukai.
Therefor, too, other mission stations should be established at points similarly favored by agricultural settlements of Indians, especially where the Government contemplates the erection of schools for them. And the Government has at last decided to build more schools. It may be surprising to learn that there are about 4,000 Navajo Indian children without school facilities.
But our work in the different schools must be supplemented by hard and persistent missionary work in the field, more especially by seeing to it that the children, after leaving these various schools, practice what they have learned, that they have ample opportunity to live up to their Holy Religion, that they co-operate with the Missionaries in the civilization and Christianization of their relatives and friends and neighboring members of their tribe. That, however, requires more men and means; it requires chapels and mission stations and catechists for widely separated localities, and arduous and continuous missionary labor in the field.
And as our Mission has no support, excepting a thousand dollars for six missionaries, and we must rely for the balance upon the generosity of good people, I hope and pray that all the promoters and members of the Preservation Society will not only continue their good work, but will vie with each other in securing new members and promoters to assist us in establishing the Kingdom of Christ among this the largest Indian tribe of our country. In praying "Thy Kingdom come" please do not forget our Navajos.
---
Notes About the Book:
Source: The Franciscan Missions of the Southwest, Published annually by the Franciscan Fathers at Saint Michaels, Arizona, 1917
Online Publication: The manuscript was scanned and then ocr'd. Minimal editing has been done, and readers can and should expect some errors in the textual output.