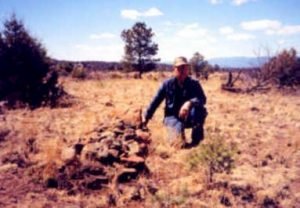 An elderly rancher pointed out this grave several years ago and told of its history. After the Civil War, African American soldiers were sent West. One troop was garrisoned at Fort Tularosa, northeast of Reserve, New Mexico. They were used to control Indian raids, escort stages, protect travelers and civilians.
Fort Tularosa was created in 1872, near the present day Aragon, New Mexico. It was the government's intention to move Chief Victorio and his tribe of Indian people to this location, but Victorio had other intentions. He and his people refused to stay. They wanted to live at Ojo Caliente on the Alamosa River near Monticello, New Mexico. The warm spring still runs where the Indians loved to soak their wounds in the healing waters. Since the Indians didn't like the Fort Tularosa area, they were always running off. On one such escape, a detachment of Cavalry was chasing a group who was heading south. They were about ten or so miles from the fort when the Indians took up defensive positions. One Indian, unseen by the soldiers, dropped back and hid. As one of the Cavalry soldiers ran past, he was shot from his saddle. Many Indians got away while they tended to the Buffalo Soldier. The other soldiers hurriedly dug a shallow grave and buried their comrade. Years later, a few military buttons were found by this rancher around this grave having been dug out by prairie mice.
The instructions for finding this grave was, "Between two pine trees on the south side of Forest road 94 near Road Forks tank." You can imagine how many pine trees there are on that ridge. We don't know who this poor Buffalo Soldier was. He no doubt left a family behind who always wondered what happened to him. I suppose there are records somewhere in Washington as to whom he was and where he was from. All I hope is, that his name is in the Lamb's Book of Life.
Submitted by Nancy Brown and Charles Barnum  – 15 November 2006©